Craig's record label, 'Uyslla' is releasing a compellation of his music called 'OverFlight' that runs a thread through his professional music life. Now available after a few years of hard work putting together playlists, artwork, etc. Please fasten your seatbelts, and enjoy the links/articles below, with 'OverFlight', a 50 year timeline of Craig's career.
The Fusion Years 1975-1981
The NYC Producer Years 1981-1987
EarthFlight 1986-1998
Craig the Survivor 2000-Now
OverFlight Reviews:
banbantonton review, Cal Gibson 2023
Ban Ban Ton Ton is a music website / blog, run out of rural Japan. "Ban" ( バン) and "Ton" (トン) are Japanese onomatopoeia – like "Bang" or "Crash", the sound of a child hitting a drum. The name is also a reference to "Zang Tumb Tuum".
_______________________________________________________________________
'Code Red'
Climate documentary 2021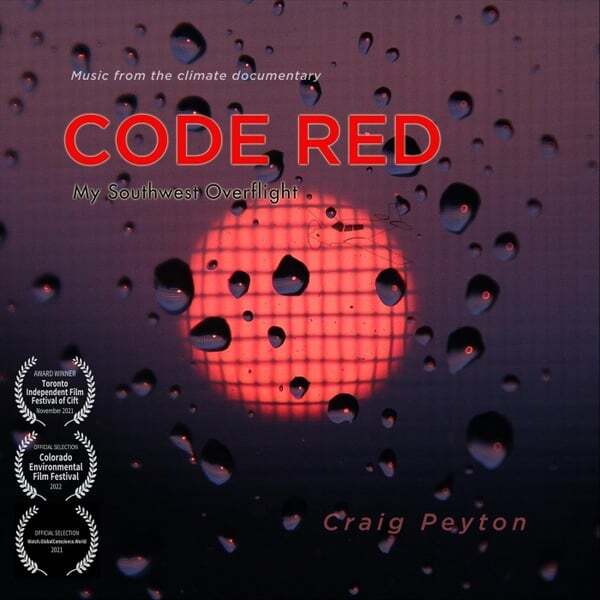 https://craigpeyton.hearnow.com/code-red-documentary-soundtrack
Check out the music side of Code Red, full play with the link above.
Here's a full length video of my flight from NY to LA, through the Southwest. It was a record heat wave which turned the flight into a very different experience. The music is mostly hand played vibes, xylosynth, drums, and a zoom pedal. My friend, Alain VanAchte, did audio narration & music mixing. His super ears greatly contributed to CR. Code Red was entered in a few environmental film festivals has won an awards at the Toronto Cift Film Festival, Colorado Environmental Film Fest, and Global Conscience World Film Fest .  Code Red info site here: https://filmfreeway.com/CodeRedMySouthwestOverflight
Once again Marcelino has thrown down and written a great upbeat fusion piece. This is installment #2 of the NYC Toe Tappers… we all had fun cutting tracks and sending in our parts from different parts of the world. Seems like the Toe Tappers just might keep evolving.
Here is a quick flight using a 360 cam, giving a unique perspective (bird-like) on flying. It's a tool I'll be using a lot more in the future. The music, 'Watercolors' I wrote and arranged a while back, using my Fairlight III production computer. That difficult box (all commands in DOS!!) was used many times on earlier music productions you hear on my R&B comp.  
'Kong' (above) is a fusion jazz performance with Craig Peyton Group founding members, Marcelino Mt, John Putnam, and Ray Marchica. While working out the details, we renamed the group, 'The NYC Toe Tappers' (at least for this one)
Here's a video made with my old Latitude partner, Ben Verdery. Check his site, he's had a massive career. He organized a wonderful YouTube concert featuring many of his music collaborators.
In the more aerial/solo music department, here is a slow groove to watch purple clouds. Take a quick flight with me into purple cloudscapes and the beautiful Hudson Valley. Play 'Hudson Valley Heartscape'
Between the Clouds
The New Craig Peyton Album, featuring Michael Levine
In 1975 Craig Peyton & Michael Levine were friends attending Berklee College of Music. The combination of Electric Vibes & Electric violin led to some interesting gigs together as they both entered the dynamic NYC music scene. Some 40 years and careers later, they collaborated in this contemporary sonic, covid-19 driven music adventure, 'Between the Clouds'. Ambient, electronic, atmospheric… Listen (free) right now
Videos of 2 popular tracks
6:13 Love in the Time of Corona (video) Craig Peyton & Michael Levine
7:01 High Altitude (video) Craig Peyton & Michael Levine
Click here to listen to all tracks from "Between The Clouds"
4:42 Hypoxia Craig Peyton & Michael Levine (feat. Ray Marchica
5:05 Between the Clouds Craig Peyton & Michael Levine
7:17 Past Neptune Craig Peyton & Michael Levine
7:38 Troposphere (feat. Ray Marchica) Craig Peyton & Michael Levine
4:26 The New Normal Craig Peyton & Michael Levine
Players:
Craig Peyton: keyboards, synths, vibes, xylosynth, production, mixing
Michael Levine: Violin, Electric Violin, Ciola
Ray Marchica: Electronic Drums, Hypoxia & Troposphere

Stephen Ang: Fretless Bass, Between the Clouds

special thanks: Toby Rosser, cover, website design, & lifetime friendship. George Heussner, valuable feedback and project title. Mirette Seireg, marketing opportunities and publishing. Ada (quiet cloud) Lau, putting up with CP during the 'process'.
"Between The Clouds" now available on all your favorite streaming sites, or download on iTunes, Amazon etc.
Reviews
Get ready to have your limbic system squeezed. "Between the Clouds" is an unearthly trajectory into a different dimension provoking a vast range of emotions. Electronic vibes sing with the violin creating an eerie, seductive sound with the bass and drums rolling it into perfection. The music is primal, sometimes caressing you and sometimes taking you out of your comfort zone. It both foretells of a time to come yet harkens back to the primordial ooze making us nostalgic for "the time before the mask" – a very special collection. — Liz Shaker-One Globe Music
Between the Clouds album is great. An organic percussive track woven into the Melody. If music imitates life, you are re-evaluating internal dialogue and expanding your comfort zone. Your rhythmic breath feels different. This is all good.
Stephen A- Light Perspectives
"Back in the day, a jazz-fusion quartet with electric vibes, electric violin, bass, and drums was an oddity. Today, maybe even more so. Audiences didn't quite know what to make of us but they thought we were cool. Playing with Craig (and Ray and Marcelino) remains one of the most fulfilling experiences I have ever had as a performing musician, one that pushed both my technical skills and creativity to the limit just to keep up.
So when, after a brief hiatus of 40 years, I found my self playing with Craig again it was less of a trip down nostalgia lane than an exciting adventure into the unknown.
Like always. I hope people enjoy listening to this music as much as we enjoyed making it."
ML
Read your (above) post this morning.. much better than coffee. Very beautiful thoughts! Amazing times in the rearview, and what a great experience creating BTC. While working on the project, I kept having stage flashbacks when I would hear your signature riffs. Thank you Michael for your brilliant playing, gentle production nudges & second chances. In this unique way, we have left an audio map of a very challenging, troubling time we're in…personal and national.
CP
Yes, it was a long haul. I entered an experimental program with very low chances, and was able to survive.…

Hi Mr. Peyton, Did you survive stage 4 esophageal cancer? My husband was stage 3 and suffered many hospital complications…

Awesome you should think of sontmhieg like that